Overview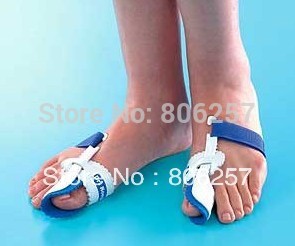 Bunions are more common in women than men. The problem can run in families. People born with abnormal bones in their feet are more likely to form a bunion. Wearing narrow-toed, high-heeled shoes may lead to the development of a bunion. The condition may become painful as the bump gets worse. Extra bone and a fluid-filled sac grow at the base of the big toe. Because a bunion occurs at a joint, where the toe bends during normal walking, your entire body weight rests on the bunion at each step. Bunions can be extremely painful. They are also vulnerable to excess pressure and friction from shoes and can lead to the development of calluses.
Causes
High heels can exacerbate a potential bunion problem because they tip the body?s weight forward, forcing the toes into the front of the shoe. This may help to explain why bunions are 10 times more common in women than in men. People in occupations such as teaching and nursing, that involve a lot of standing and walking, are susceptible to bunions. Ballet dancers, whose feet suffer severe repetitive stress, are also amongst those who experience bunions. Women can sometimes develop bunions and other foot problems during pregnancy because hormonal changes loosen the ligaments and flatten the feet. Bunions are also associated with arthritis, which damages the cartilage within the joint.
Symptoms
Since the pain from a bunion is always aggravated by shoe wear, the symptoms will often depend on the type and size of shoes worn. The perception of pain or discomfort that people experience is quite varied. There are some individuals who have small bunions that are very uncomfortable. This limits their ability to wear shoes comfortably. On the other hand, some individuals may have quite significant deformities that are annoying but do not limit their activities in anyway.
Diagnosis
Your family doctor or chiropodist /podiatrist can identify a bunion simply by examining your foot. During the exam, your big toe will be moved up and down to determine if your range of motion is limited. You will be examined for signs of redness or swelling and be questioned about your history of pain. A foot x-ray can show an abnormal angle between the big toe and the foot. In some cases, arthritis may also be seen. A X-ray of your foot may help identify the cause of the bunion and rate its severity.
Non Surgical Treatment
A range of treatments is available for bunions, including painkillers, modifying footwear, orthotics, such as insoles, bunion pads and toe spacers. Surgery may be considered if a person's symptoms are severe and do not respond to non-surgical treatment. The type of surgery used will depend on the level of deformity, the severity of any other associated symptoms, the patient's age and any other associated medical conditions. Bunion surgery is usually effective, with up to 85% of cases resulting in improvement to symptoms. However, the deformity can sometimes return after bunion surgery.
Surgical Treatment
The primary goal of bunion surgery is to relieve the pain associated with the deformity. This is accomplished by correcting the underlying abnormal metatarsal position by realigning it toward the second toe. Removing excessive bone formation on the bunion "bump", releasing the soft tissue tightness which is pulling the big toe towards the second toe. Tightening the soft tissues which are overly stretched on the bump side of the joint. Re-establish the correct alignment of the cartilage surfaces. Move the sesamoid bones into correct alignment. Realign the great toe. Bunion surgery procedures are based on many factors, including health, age and lifestyle of the patient. However, a critical factor in procedure choice is the grading of the bunion deformity.
Prevention
Because bunions develop slowly, taking care of your feet during childhood and early adulthood can pay off later in life. Keep track of the shape of your feet as they develop over time, especially if foot problems run in your family. Exercising your feet can strengthen them. Learn to pick up small objects, like a pencil or pebble, with your toes. Wear shoes that fit properly and don't cramp or pinch your toes. Women should avoid shoes with very high heels or pointed toes.